Investment in journalism has propelled the Manchester Evening News to a position as the UK's biggest regional news brand.
Darren Thwaites, Editor in Chief, tells us more in this blog.
"Even against the rich and vibrant past of the Manchester Evening News, the year of 2021 has been an extraordinary one for this iconic title. The M.E.N has established a bigger audience than ever at such a critical time for the city.
Founded over 150 years ago when Emmeline Pankhurst was a little girl and Manchester Town Hall was just an architect's drawing, the Manchester Evening News has been with readers every step of the way through triumph and tragedy.
Watch the video!
Since those heady Victorian days when Manchester grew as one of the world's great industrial cities, we've given a voice to the under-represented, fought injustice and campaigned for ordinary people. This year we've fought our city's corner through the pandemic, with Manchester often central to the national story.
Never has our journalism been more needed and never has it been better read.
After more than a year of Herculean effort from everyone involved in every department, it's so rewarding to see that our readers want and need our content more than ever. Our hard working print teams have kept the presses rolling, never missing a beat.
Our website manchestereveningnews.co.uk continues to lead the way across all UK regional titles with record audience figures of more than 100m page views every month.
But it's our newspaper that's really hit the headlines, topping the charts across Reach in terms of sales trends in 2021. It's been a remarkable fightback since the first lockdown when shops shut, people stayed home and the outlook was uncertain.
There's no doubt that Manchester Evening News readers have found some comfort through this turbulent year from the certainty of having a local newspaper by their side, always capturing the biggest stories and sharing the most important information.
The M.E.N has consistently brought the best of everything together in one place at one point in time, capturing the mood with a series of iconic front pages.
The success has been built on investment in journalism that has propelled us to a position as the UK's biggest regional news brand.
The pandemic has reinforced that status, with the public turning to trusted, reliable, and locally-relevant content.
The drama on the football field has also kept us busy. With the action played out largely without fans, it has often played out most vibrantly on the pages of the Manchester Evening News. Our sports reporters have been in the thick of the action, whether it's City scooping another major trophy (or three), or United fans protesting the shocking European Super League treachery. Still to come this month are two European finals, one each for City and United, making Manchester arguably the hottest footballing city on the planet right now.
When it comes to newspaper success stories, there's one standout winner since the first lockdown.
Success of new Sunday edition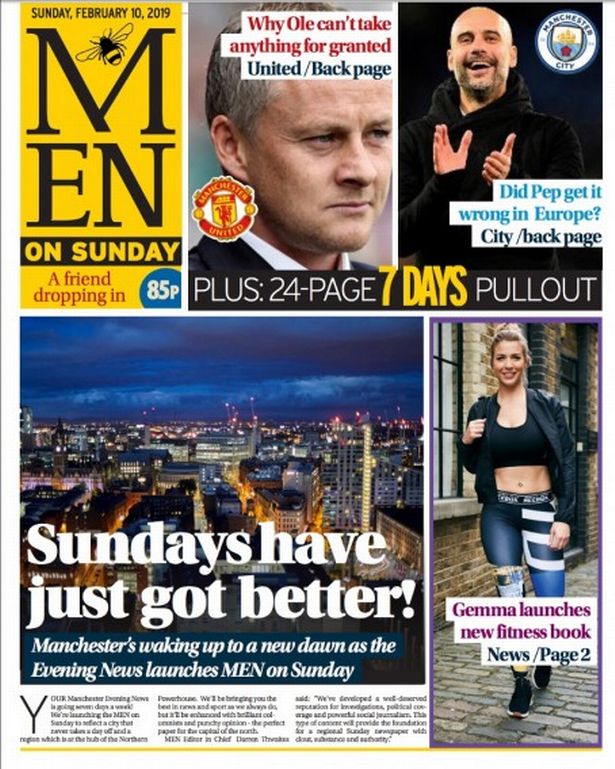 It took us 150 years to launch a Sunday edition and had we known a global pandemic was just around the corner, we may have never done so.
Launching a new newspaper in 2019 was rare enough and it certainly took some imagination to get a business case off the ground that involved ink not algorithms in this digital age.
But the new kid on the block celebrated its second anniversary earlier this year with a remarkable tale to tell.
The newspaper that started out against all the odds and then faced the unprecedented impact of Covid-19, is the fastest-growing in the UK.
Our 2020 average weekly sale was up by 9% against 2019 as retail sales accelerated ever faster through the year, even in the face of lockdowns and regional restrictions. That growth has continued into 2021 and, while it's still the baby of our family, the sales story has surprised even those with decades of experience in the newspaper sales business.
Entertaining and informing
We've been proud of how the M.E.N has emerged as a digital powerhouse in recent years, forging new audiences and developing new skills.That's all helped to power a rich variety of stories with which to build our newspapers. The craft of print is in selecting, editing and presenting the right mix of those stories to create a unique product every day, one that entertains and informs.
42,000 copies per hour
The Manchester Evening News is printed by Reach Printing Services at our Oldham print site. We use Wifag Evolution 371 full colour presses which print at speeds of up to 42,000 copies per hour. The MEN has full inserting capabilities, allowing us to include commercial inserts and special supplements.
For those in our industry with ink still running through their veins, 2021 has been a refreshing reminder of the enduring affection for print."
Thank you for the great leadership you show to the Manchester Evening News editorial team, Darren.
———–
Find out more about newspaper printing and the newspaper formats available to your business, university, college, charity or organisation here