One of the newspapers printed by Reach Printing Services at Oldham has a special purpose and a fascinating back-story.
We're proud to print 'All Together NOW!', the multi award-winning newspaper aimed at everyone – but especially anyone whose lives are affected by disability, long-term health conditions, or, age – plus health professionals. With the help of NHS Trusts, local authorities and community groups, 70,000 FREE copies are distributed across Merseyside, Lancashire and Cheshire.
Watch the video to discover the terribly dramatic events which led to its inception:
Now read Tom Dowling's story – he's founder and editor of All Together NOW! charity newspaper:
It's odd how fate can change things forever: How young dreams can suddenly shatter, how new beginnings blossom.

Almost a lifetime ago, under a star-spangled Iranian sky, I lay mesmerised as a huge blood red sun began to creep up over the horizon.

It was June, 1974. I'd just turned 20 and I was cocooned in a sleeping bag on top of our minibus. Our road trip to Everest was coming to an end and I was in dreamland, planning my next adventures…

But then it all happened. In the time it takes to blink, everything changed. A storm of rocks and bullets turned dreams into a nightmare. We were being attacked by thugs armed with stones and guns.

One bullet crashed into the head of one of my friends, from which he made a miraculous recovery. Another blasted into my spine, severing my spinal cord. I was instantly paralysed from the chest for life.

Until then I knew nothing about the huge devastation that paralysis and disability brings. And I was too single-minded to find out about the awful, everyday issues that millions of disabled people face.

Now I was one of them. Forget forever about walking or standing again, doctors said. It was touch and go whether I'd ever work again. My mum was told I'd be lucky to ever get out of bed.

But wonderful things were happening in the background. While learning how to use a wheelchair at Southport's spinal unit, a letter arrived from Len Capeling: the entire staff at the Liverpool Post & Echo had paid for me to go on an NUJ subbing/design course. Then Dave Williams and Barry Bradburn gave me a job at the Ellesmere Port News. George Cregeen, editor of the Liverpool Echo, then set me up as a sub/designer in Echo features the following year.

I was 22 and my world was right back on track – unlike for millions of others in my situation.

One of their biggest obstacles was simply accessing the kind of news and information that would help them rebuild their lives. There was nothing in their local paper, and the internet hadn't yet been invented. Even now, 20% of the population – 12 MILLION – remain unconnected because they either can't afford it, don't have the skills, or just prefer print.

"Digitally excluded" is the new buzz phrase, and it results in people being denied vital health information. Across Merseyside alone, there are more than 300,000 people who are denied vital health information to improve their overall wellbeing – and missing out on wide-ranging social and work opportunities.

So in 2005, I set up the new charity paper – All Together NOW! Amazingly, the gamble began to pay off. Within a few months, almost £100K came in from all kinds of funders. Unwanted desks and office equipment at the Echo were donated to the charity, and in May 2005 my old newsroom mates – and Peter Hooton and The Farm pop band, whose All Together Now song has become a national anthem – were all helping me launch the new paper, which has always been printed by Reach in Oldham.

The newspaper was an instant success and now, in 2021, we're distributing 70,000 free copies all over the North West – and all paid for by philanthropists like Redrow Homes founder Steve Morgan, and from many charitable trusts and advertisers.

We've also got a dynamic board that includes my lifetime friend Phil Wellings – now a retired police chief inspector. Carl Wood, former MD at Reach North West, has just become our interim chair, and we've appointed our first ever development officer, Helen McLoughlin, who worked at Reach for 30 years as a sponsorship/sales manager. Dr Jen Hough, lecturer in Policing in the School of Justice at UCLAN, has also just joined the team.

I've had fantastic help from our trustee Mark Hancock, co-owner of Zut Media, who produced the fantastic film above.

So it's all systems go. Admittedly, it's all far from easy. But the response makes it all worthwhile. Over the years the paper has picked up more than a dozen community and industry awards, including the Specialist Publication of the Year at the O2 Media Awards.
Thank you to Tom Dowling for sharing his amazing story, and everyone at Reach would like to congratulate you, Tom, and the ATN team, for your great success!
Praise is coming from all quarters for the All Together NOW! newspaper.
"All Together NOW! is being eagerly read right across the region by people with – and without – disabilities. There is something in it for everyone."
David Murray

"At least one in five people remain digitally excluded and are being denied access to vital health information and services. The FREE All Together NOW! charity paper fills that vital gap. It's my bible and I circulate this lifeline to my elderly neighbours and friends. It should be supported by all councils and the NHS – and read by everyone!"
Bob Jones, 92, from Walton – possibly the oldest newspaper 'delivery boy' in the UK!

"There is no doubting the importance of this excellent publication. All Together NOW! makes a unique contribution to improving the quality of life of disabled people and their families."
Steve Morgan OBE

"It is a great platform that's helping us to get our messages to our vulnerable customers."
Louise Beardmore, United Utilities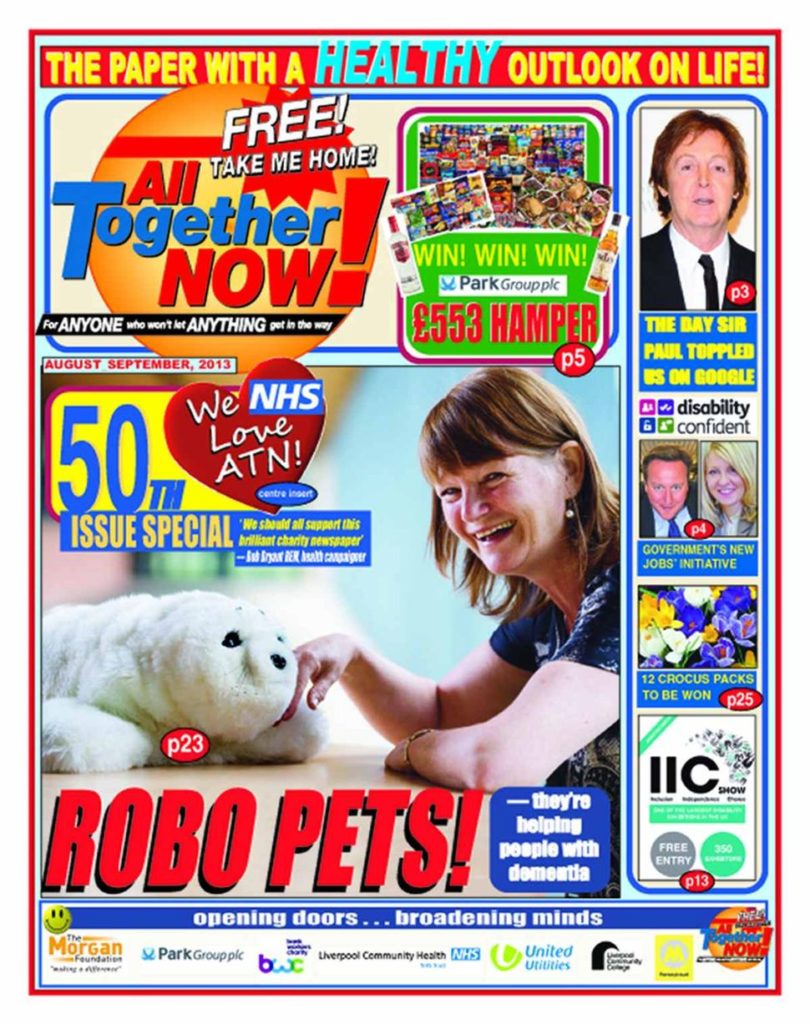 You can make a donation to All Together NOW! here
Sponsor this brilliant organisation by emailing Tom at [email protected]
Advertising opportunities are here: www.alltogethernow.org.uk/about-us/cost-effective-advertising/
Read the latest issue here: www.alltogethernow.org.uk