Cost is important to all of our clients, and none more so than the NHS hospitals that we print newspapers for.
Councils, universities and colleges, prisons, political parties, community and religious groups,retailers, holiday firms and hotel groups all choose the cost-effective medium of newspapers to communicate, and at Reach Printing Services we're happy to help all these groups with their printing.
"We have used Reach for our Trust newspaper for many years and as an NHS organisation, cost is always key. Reach has always delivered great value, top quality and with first-class customer service."

Julia Ricketts, Associate Director of Communications and Engagement Projects,The University Hospitals Birmingham NHS Foundation Trust, August 2021
The cold web-offset printing method and super-fast presses we use at Reach Printing Services enable us to keep our print prices low. The large size of our company also gives us great buying power for paper and ink.
Quality is of course crucial, and you want a printed product which reflects well on your organisation. Andy Jones, one of our Dream Team of Business Development Executives comments:
"The type of newspaper that you have printed can reflect the type of organisation that produces it. For example, we print newsletters in a tabloid newspaper format for a number of NHS Trusts who choose 70gsm newsprint over traditional lower grade newsprint as this delivers a cleaner, brighter and whiter finish which enhances the colour used either in text, images or photographs. It is important to these organisations that they are seen by both their patients and staff as being professional when delivering updates of their recent success stories, innovations and planned developments."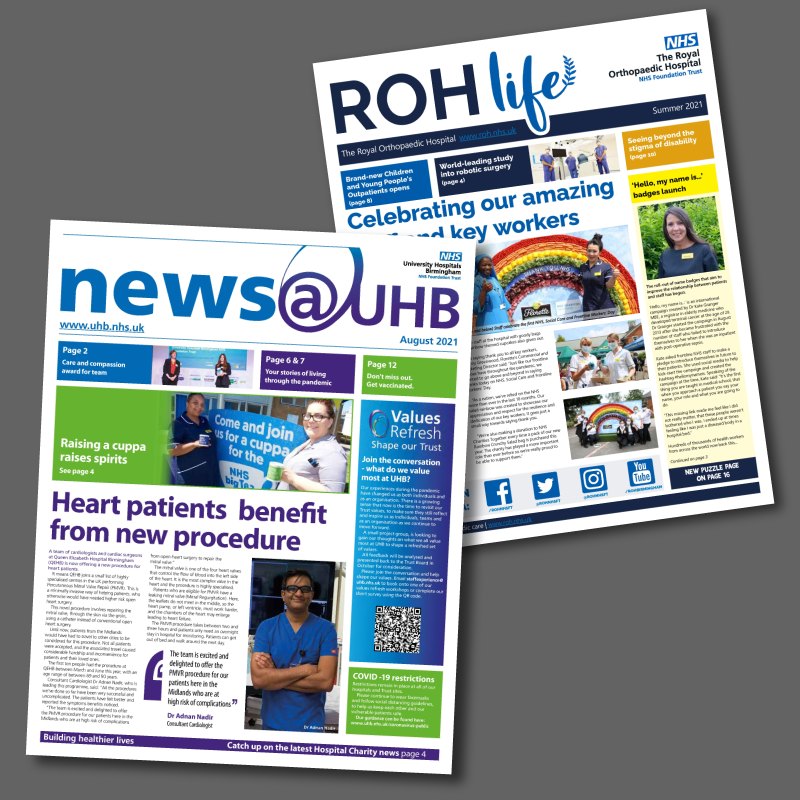 Equally some of our community-based newspaper publishers work to tight budgets with a priority of delivering local news and advertising in as fast and cost efficient a manner as possible, newspapers are one of the most flexible mediums that provide this method to reach as wide an audience as possible. Targeting readers by postal sectors through direct mail to reach the right social economic sector can also be useful, while an increasing number of councils choose newspapers to reach every household in their electoral areas."
The role of print for trust-building
A 2020 Kantar study revealed that despite the continued growing importance of social media in our daily lives, print media remains the most trusted channel.

Marketers talk too about the 'multiplier effect' which shows marketing effectiveness doubled when combining print, events, and some form of digital media.

"Print is at it's best when it humanises a brand and builds loyalty by offering unique content. As print essentially can't be undone, you're telling your audience that you are presenting them with selected content that is worth their time. Brands that combine print and digital provide multiple touchpoints – and trust building points – to help educate customers and prospects."
Stephanie Stahl, General Manager, Content Marketing Institute
Arthur Locke, Reach Printing Services Business Development Executive, makes the point about the sensory benefits of print:
"A print format is a physical and tangible product, you can feel it and smell it and you own it, making it more personal and exclusive to the reader.

I'm happy to pay £6 or £7 for a magazine on a subject I'm interested in."
And, over to our colleague Derek Powell:
"Printed products tend to have a longer shelf-life in homes and places of business, giving advertisers more opportunities to reach their target audiences. With the ability to print multiple editions in one single print run and directly target their customer base, publishers and advertisers are able to deliver a different message simultaneously to their audience. More importantly, customers are more likely to act and respond to a trusted and reliable source when deciding to buy or take up an offer by an advertiser."
Why else shouldn't cost alone shouldn't be your deciding factor?
"Cost is important to any business but it is just as important to ensure the product looks its best and deadlines are achieved and maintained." Michelle Charlton
When choosing a print supplier, be sure to check out the following before you choose:
Security
Confidentiality
Professional advice
Environmental credentials
Quality of production
Cost
Experience in your chosen format
Expected turnaround time
Policy on fluctuating paper costs – if the paper cost decreases, will your printer pass that saving onto you?
And while we're on the theme of speed of delivery, over to Derek:
"One of the great advantages of using newsprint is the speed at which we can get your printed product to market. In many cases we can turn around small or large print orders within 24 hour of receiving artwork and even dispatch same-day if required."
Did you know that we can start printing within 30 minutes of receiving your files?
——
Spend wisely and start your conversation with the Reach Printing Services team: call 0345 307 3276