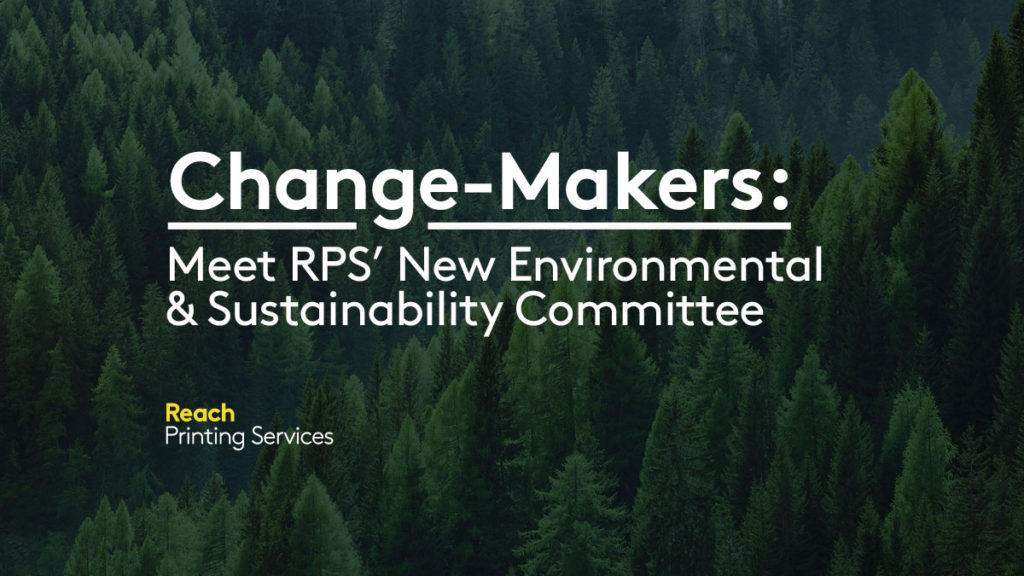 As trestle tables and chairs were being packed away in Glasgow, and as the COP26 global delegates made their way back to their home countries, a new committee was being formed at Reach Printing Services!
In the spirit of the United Nations' Sustainable Development Goal #17 – "Partnership", December 2021 saw the inaugural meeting of the brand new multi-site RPS Environmental & Sustainability Committee. The new committee brings together representatives from every department in every site of RPS as well as our contract partners, Menzies, on this ambitious project which is a first for us all in terms of scale and scope.
Why We've Chosen A Multi-Site Approach
At RPS, we pride ourselves on being environmentally aware. Over the years, our local, single-site committees have done a fantastic job of monitoring, targeting and acting upon environmental projects. In fact, for over 10 years all of our sites have been accredited to ISO14001, thus certified as operating with an effective environmental management system.
We've constantly sought to assess, streamline and make our services more efficient, including the rationalisation of our print operations into four sites – Watford, Oldham, Teesside and Cardonald – in 2020. Thanks to the reduction in sites and the ease at which we can now all meet virtually, a collaborative approach seemed like a no brainer! Happily, we weren't the only ones who thought so, as our contract partners Menzies have jumped on board too.
The first meeting of the Environmental & Sustainability Committee was a highly engaging discussion. There is already amazing work underway to plan and execute areas of focus and objectives for the year ahead!
Our Focus For 2022
A primary focus for 2022 is to better understand our data. We have a broad amount of information available or obtainable across our sites, the challenge is firstly auditing and understanding the data collected and transforming it into insight that can drive policy and initiatives. The committee highlighted several key areas for this year, including how we can affect our waste, our energy usage and our carbon footprint.
Employee engagement is a massively important goal for RPS. Teamwork, collaboration and mutual respect are fundamental to our company ethos, and we view our community as a great fountain of knowledge that can be used to drive our ESG goals forward. This year, our aim is to approach, engage and inspire our employees to join us to reach shared goals, allowing us to make a huge difference both within RPS and throughout our local and wider communities.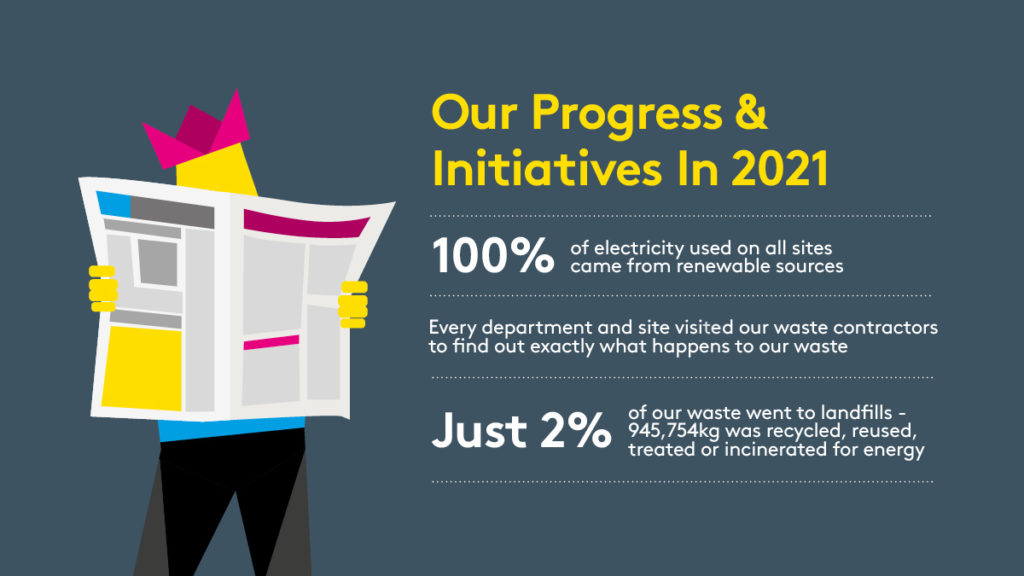 Our Progress So Far
Reach Printing Services have a number of policies in place that set out our commitments in several key areas, including health, safety, paper sourcing, energy consumption, waste management and recycling, and the level of volatile organic compound (VOC) emissions from printing. We've even won awards for some of our policies and commitments.
Here are a few of our proudest environmental and sustainability initiatives and achievements over the past year:
Green Energy Is Go: all of the electricity that we use at each site is now from renewable sources, yes, that's 100%!
Knowledge Is Power: in 2021, employee representatives from every site visited our waste contractor to do a duty of care visit and find out exactly what happens to our waste. These findings were then shared with their wider departments.
The Circular Economy: last year, only 2% of the waste sent to our environmental waste services partner J&G went to landfills. In total, 945,754kg was recycled, reused, treated or incinerated to create energy.
These superb results confirm that we are on the right track. We can't wait to see the new initiatives of the Environmental & Sustainability Committee take shape, and look forward to sharing the developments with the wider community.