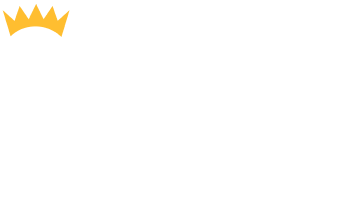 Welcome to our Inside the Industry section – where we don't just tell you how working with RPS can benefit you, but we discuss print as a whole: its effectiveness; its sustainability and its environmental impact. This is where we share facts, research and case studies to remind you that Print is Charming. Print causes people to sit up, take notice and think, because it is alluring and difficult to forget. When you hold print in your hand, you're holding something that is dependable, trusted and well loved. Research shows that the brain works differently when we engage with print. Whether used alone or as part of a multi-channel approach, you'll find Print's Charming.
There are more ways to advertise your business than ever before, but Don't forget – print's charming!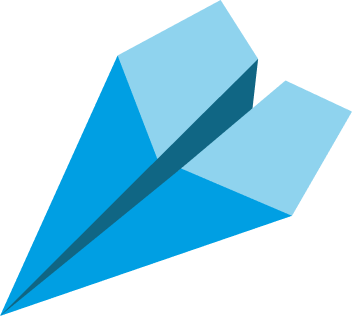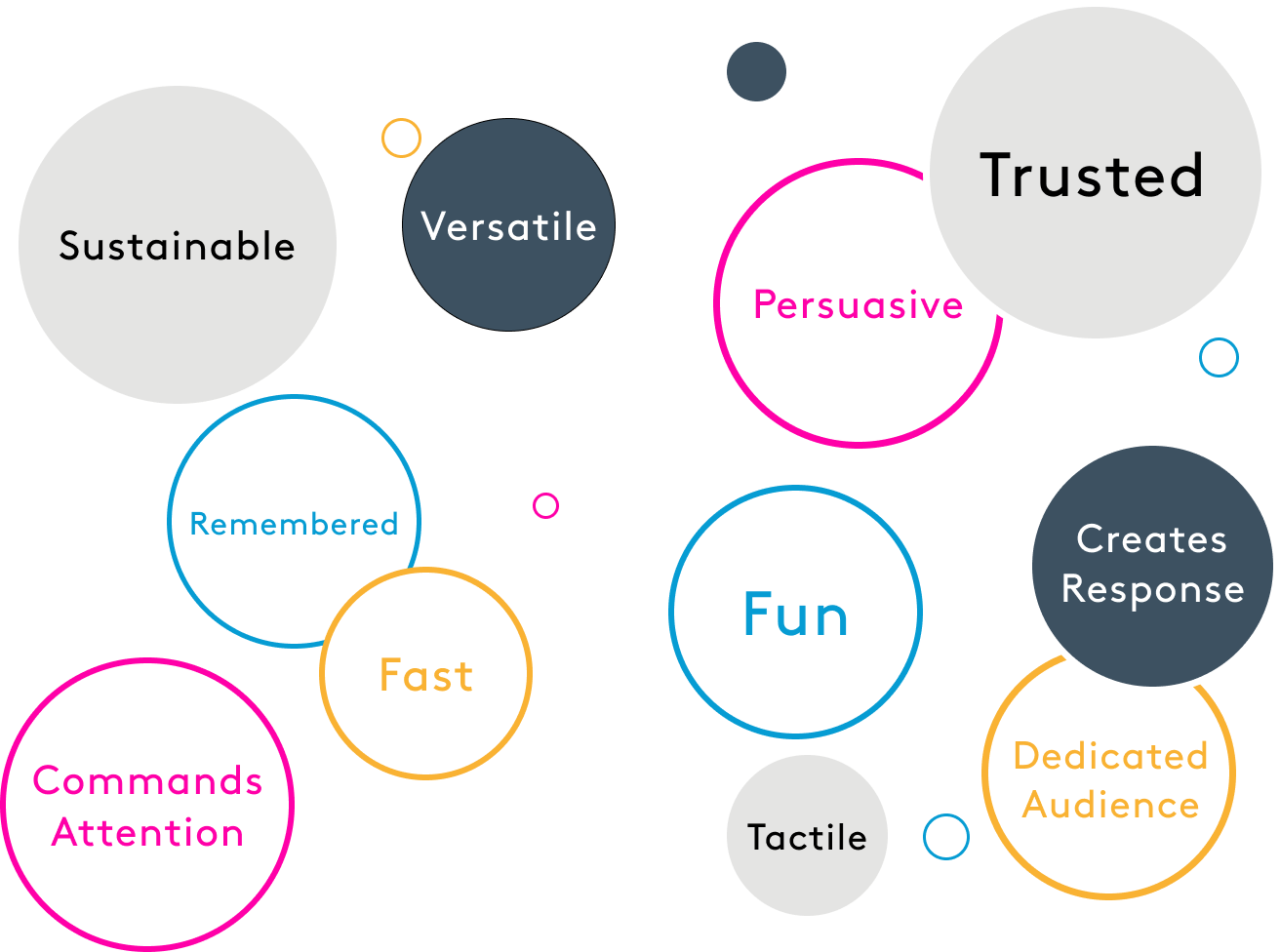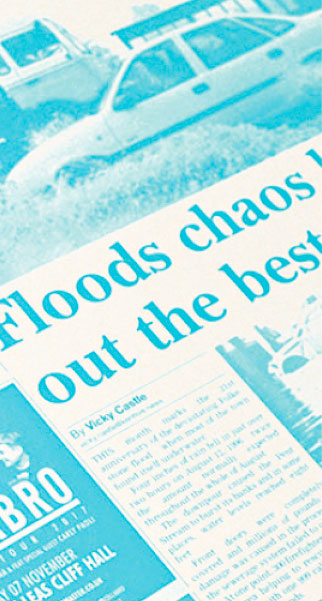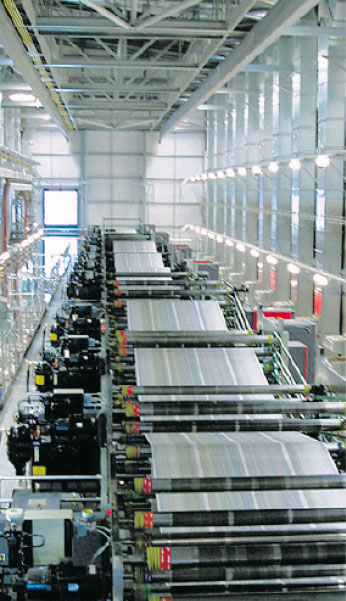 When people view print, they may:
Save it for later
Tell other people
Pass it on
Visit a website
Read reviews
Make a purchase
Make a donation
Plan a large purchase
Use a voucher or a code
Visit a shop, attraction, place or restaurant
Order a catalogue or brochure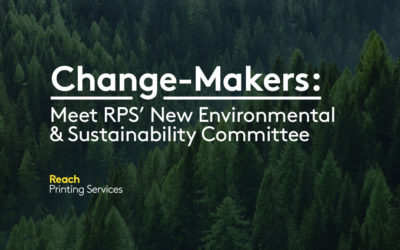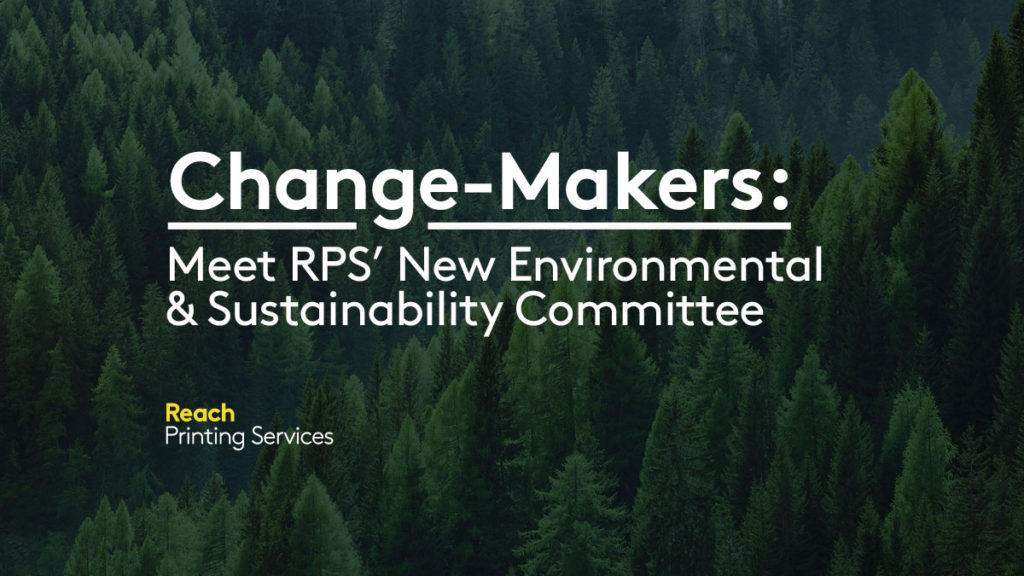 As trestle tables and chairs were being packed away in Glasgow, and as the COP26 global delegates made their way back to their home countries, a new committee was being formed at Reach Printing Services!
In the spirit of the United Nations' Sustainable Development Goal #17 – "Partnership", December 2021 saw the inaugural meeting of the brand new multi-site RPS Environmental & Sustainability Committee. The new committee brings together representatives from every department in every site of RPS as well as our contract partners, Menzies, on this ambitious project which is a first for us all in terms of scale and scope.
Why We've Chosen A Multi-Site Approach
At RPS, we pride ourselves on being environmentally aware. Over the years, our local, single-site committees have done a fantastic job of monitoring, targeting and acting upon environmental projects. In fact, for over 10 years all of our sites have been accredited to ISO14001, thus certified as operating with an effective environmental management system.
We've constantly sought to assess, streamline and make our services more efficient, including the rationalisation of our print operations into four sites – Watford, Oldham, Teesside and Cardonald – in 2020. Thanks to the reduction in sites and the ease at which we can now all meet virtually, a collaborative approach seemed like a no brainer! Happily, we weren't the only ones who thought so, as our contract partners Menzies have jumped on board too.
The first meeting of the Environmental & Sustainability Committee was a highly engaging discussion. There is already amazing work underway to plan and execute areas of focus and objectives for the year ahead!
Our Focus For 2022
A primary focus for 2022 is to better understand our data. We have a broad amount of information available or obtainable across our sites, the challenge is firstly auditing and understanding the data collected and transforming it into insight that can drive policy and initiatives. The committee highlighted several key areas for this year, including how we can affect our waste, our energy usage and our carbon footprint.
Employee engagement is a massively important goal for RPS. Teamwork, collaboration and mutual respect are fundamental to our company ethos, and we view our community as a great fountain of knowledge that can be used to drive our ESG goals forward. This year, our aim is to approach, engage and inspire our employees to join us to reach shared goals, allowing us to make a huge difference both within RPS and throughout our local and wider communities.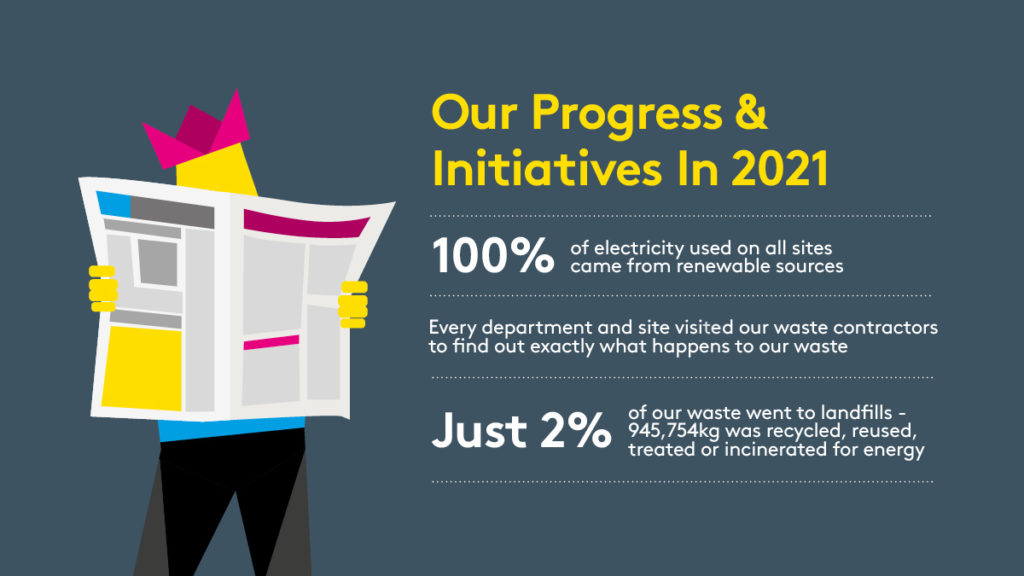 Our Progress So Far
Reach Printing Services have a number of policies in place that set out our commitments in several key areas, including health, safety, paper sourcing, energy consumption, waste management and recycling, and the level of volatile organic compound (VOC) emissions from printing. We've even won awards for some of our policies and commitments.
Here are a few of our proudest environmental and sustainability initiatives and achievements over the past year:
Green Energy Is Go: all of the electricity that we use at each site is now from renewable sources, yes, that's 100%!
Knowledge Is Power: in 2021, employee representatives from every site visited our waste contractor to do a duty of care visit and find out exactly what happens to our waste. These findings were then shared with their wider departments.
The Circular Economy: last year, only 2% of the waste sent to our environmental waste services partner J&G went to landfills. In total, 945,754kg was recycled, reused, treated or incinerated to create energy.
These superb results confirm that we are on the right track. We can't wait to see the new initiatives of the Environmental & Sustainability Committee take shape, and look forward to sharing the developments with the wider community.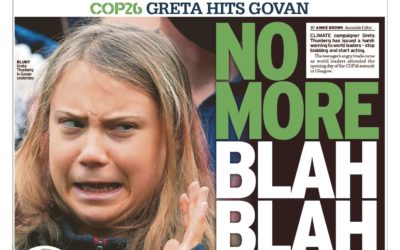 It was exciting times for Reach journalists this November 2021 to have the world's leaders all on home turf, and ready to make newsworthy commitments at Glasgow for COP26.
The newspapers that we print here at Reach Printing Services (including many at our Glasgow print site!) each covered the stories in their own unique ways and our teams set to work engaging readers with powerful headlines and photographs.
The Mirror's overall approach to covering COP26 was to encourage readers to take action on climate change, by explaining how it directly impacts them and where they live, and what they can do about it. All our Scottish titles including The Sunday Mail ramped up their coverage of environmental issues leading up to the event, and as the hometown paper for Glasgow, The Daily Record also had its full team of journalists and photographers on the ground.
So here's our round up of some of the most memorable COP26 newspaper front pages: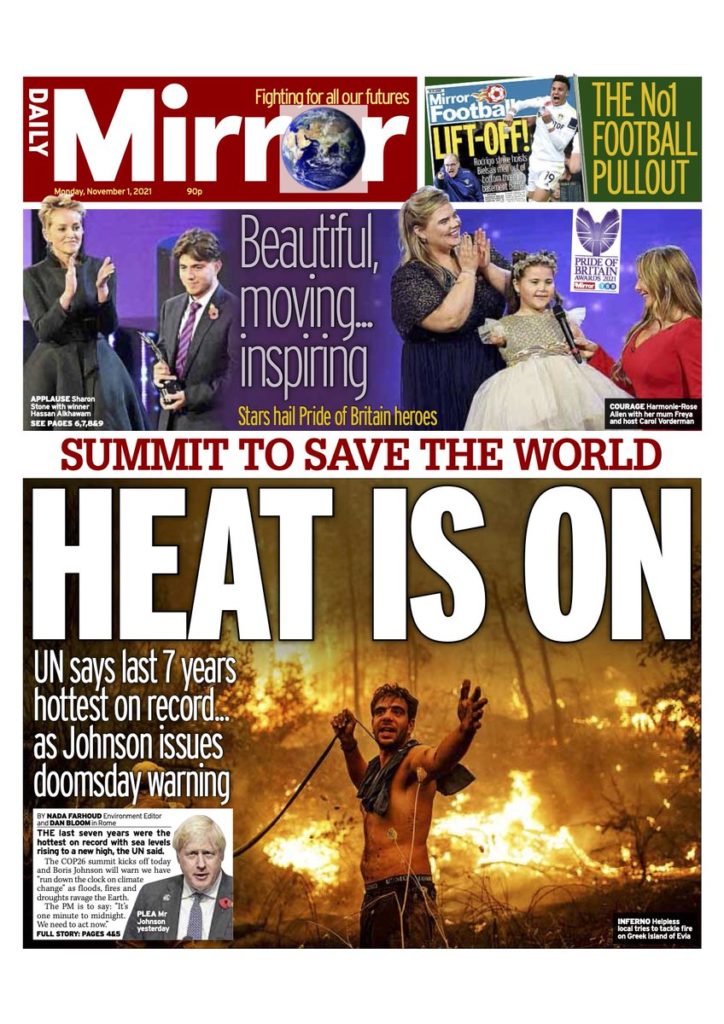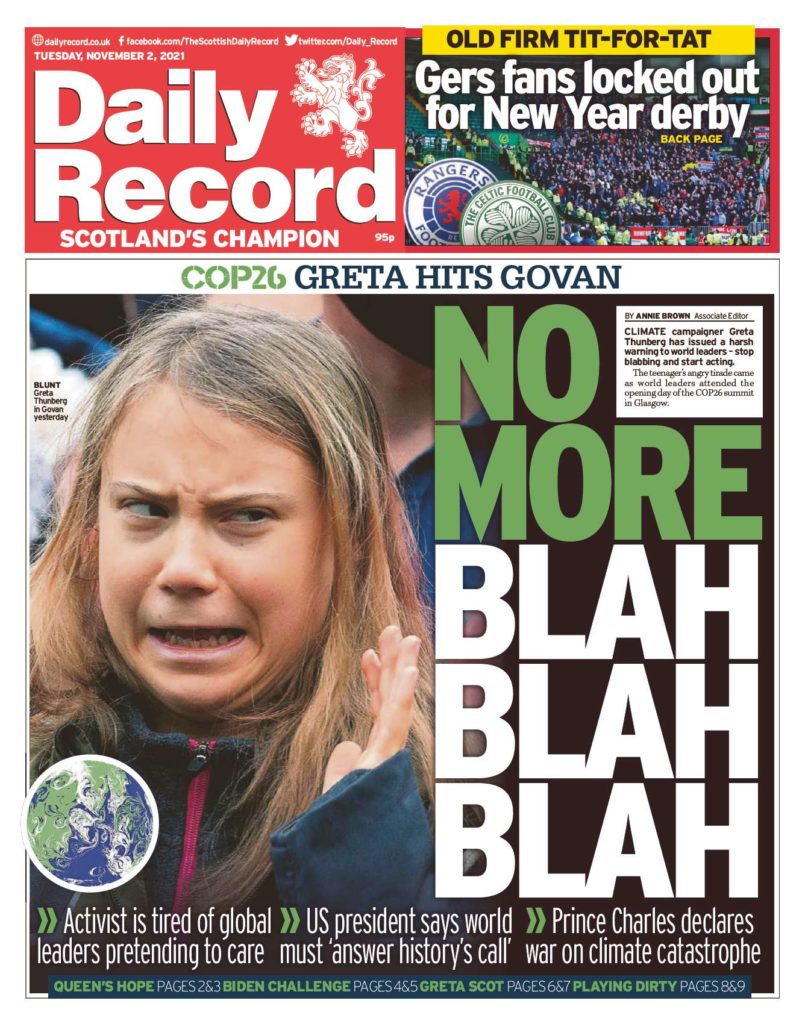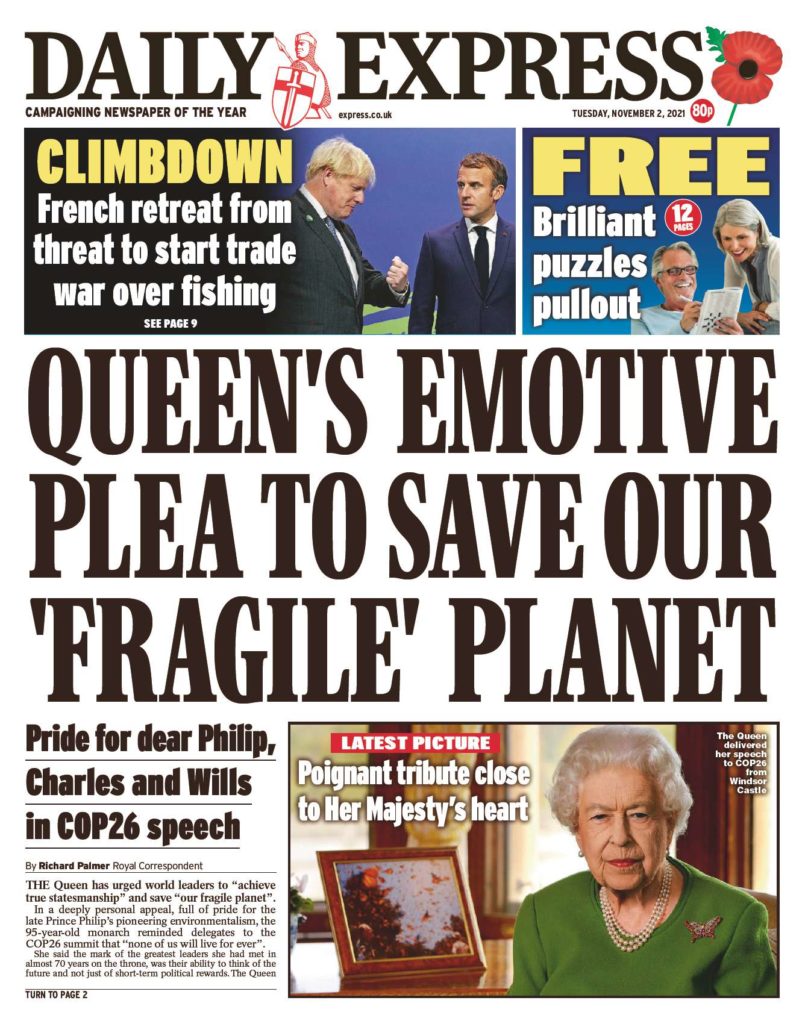 The Express focused heavily on the COP26 event, following praise from Downing Street and COP26 President Alok Sharma for its Green Britain partnership with Ecotricity. The Express analysed everything as it happened at COP26, live from Glasgow, and there was dedicated content online and in print from our award winning Environment Editor John Ingham who spoke to leading environmentalists, scientists, campaigners as well as all key decision makers. "We broke the information down making it relatable for our readers to understand the real life implications of the commitments made at COP26." said Express Editor-in-Chief Gary Jones.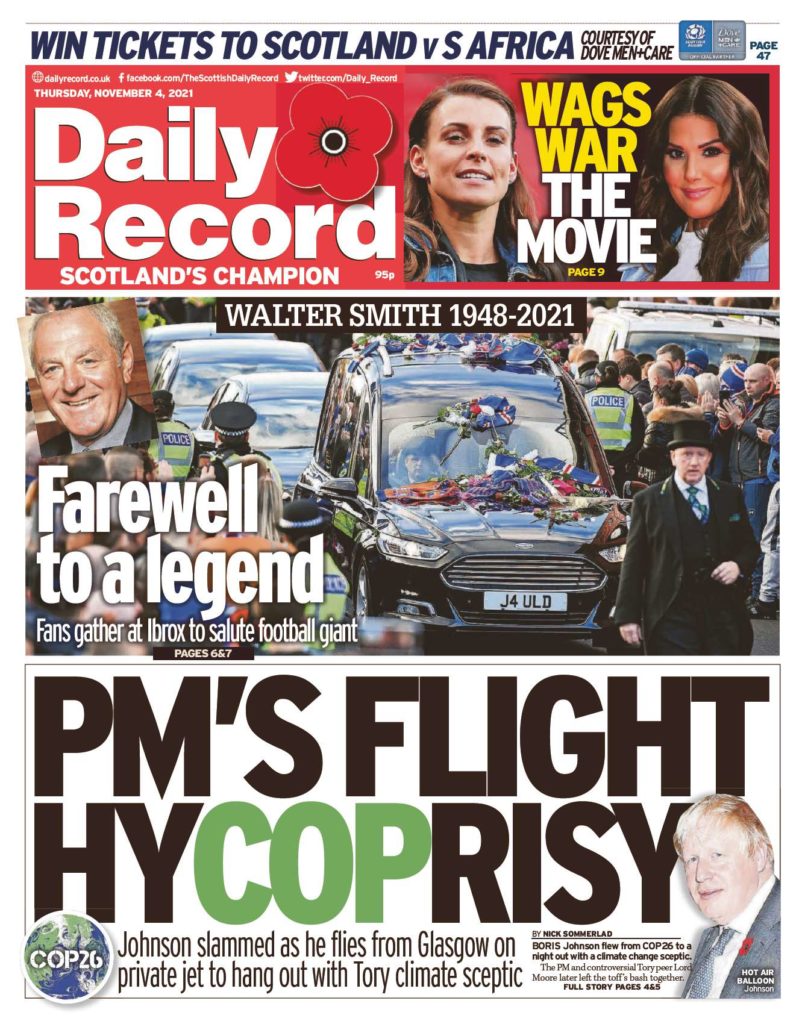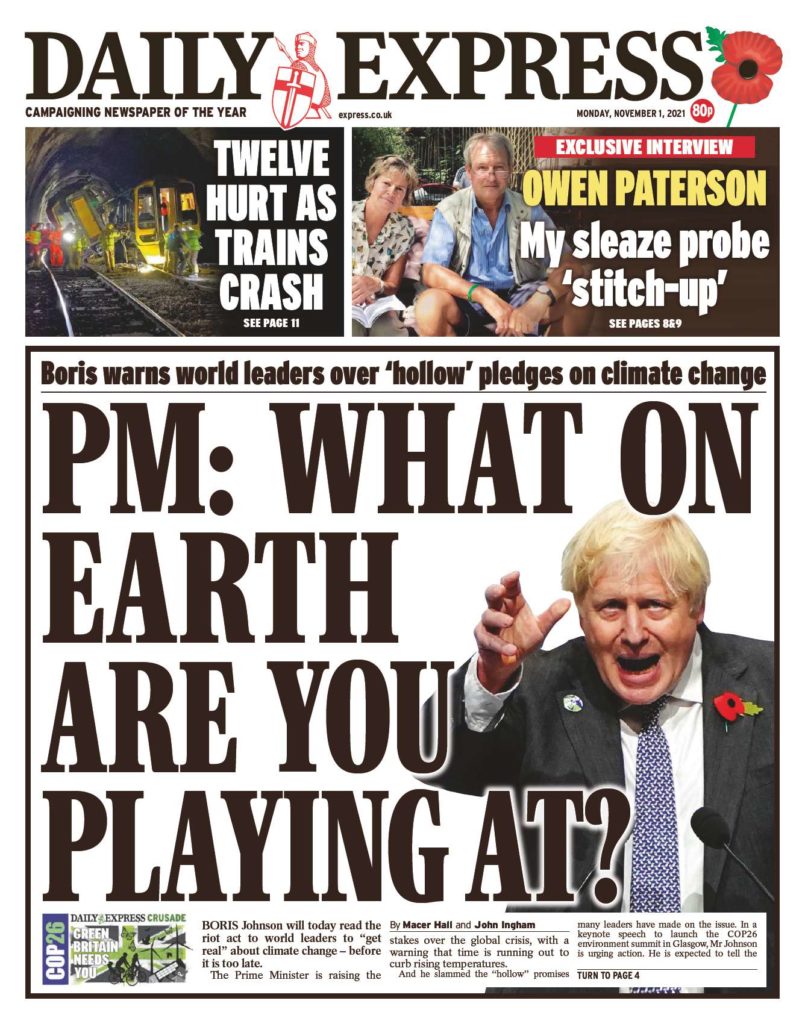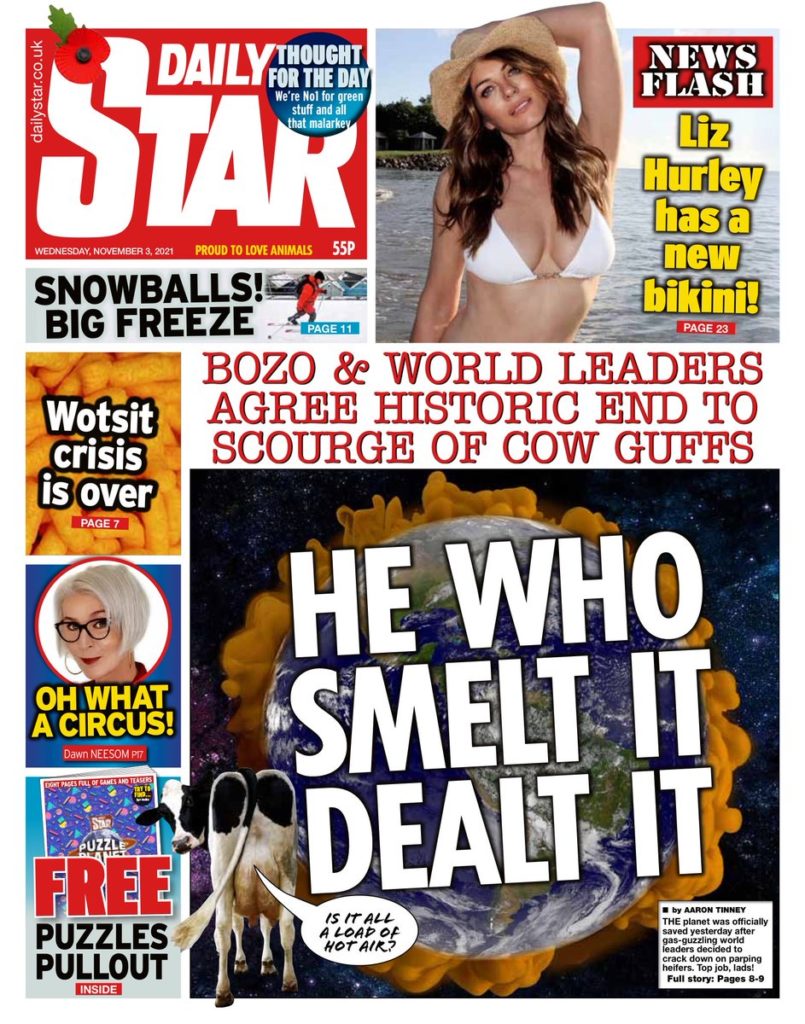 We also print a highly successful newspaper for children – First News – whose team took a group of kids from all corners of the UK to Downing Street on 25th October, for a kids' climate conference with Boris Johnson and Tanya Steele, the head of environmental charity WWF. Fantastic to put them on the spot!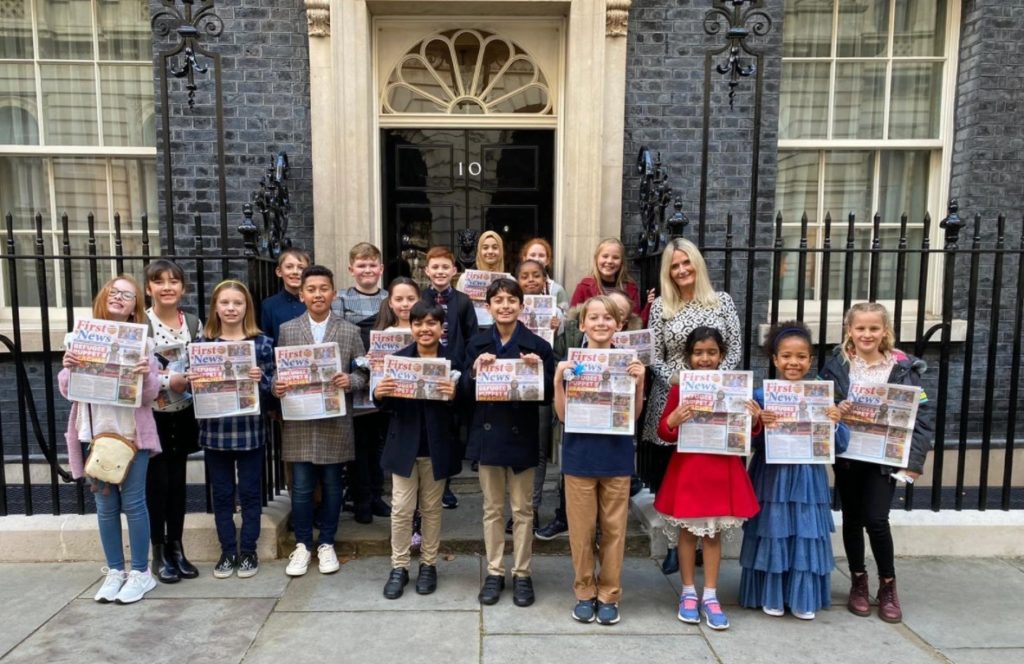 Are our own newspaper printing processes eco-friendly?
They certainly are! For example, at our Saltire print site in Glasgow, we hold the ISO 14001:2015 Environmental Management certification, as well as both the PEFC and FSC Chain of Custody certification.
The ISO 14001:2015 is awarded to organisations who 'manage their environmental responsibilities in a systematic manner that contributes to the environmental pillar of sustainability'
The Programme of Endorsement of Forest Certification (PEFC) is a global non-profit organisation committed to the certification of forests to credible, independently verified standards of responsible forest management, with a focus on conserving the natural habitats of plants and animals, and respecting the rights of forestry workers and local communities.

PEFC operates this robust chain of custody scheme to track wood and wood fibre through every step of the supply chain, from the forest to the end user.
Forest Stewardship Council (FSC) chain of custody certification verifies that FSC-certified material has been identified and separated from non-certified and non-controlled material as it makes its way along the supply chain, from the forest to the market.
Read more COP26 news coverage
Follow the Mirror's coverage of COP26 here
Follow the Daily Record's coverage of COP26 here
Follow the Express's coverage of COP26 here
See the new Twitter account, Mirror Earth, focusing exclusively on environmental content and COP26 news, which has attracted over 6000 followers.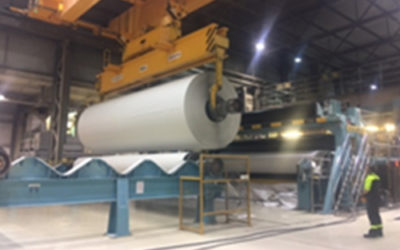 RPS work with many suppliers from across the globe, including UPM. Their mills use the best available techniques to ensure efficient and sustainable production of paper, and they have developed innovative ways to reduce and manage waste. When visiting UPM Shotton, we were shown that ink is removed and reused in the recycling process. In fact, today 90% of all UPM's production waste is reused or recycled.
Further information can be found at…